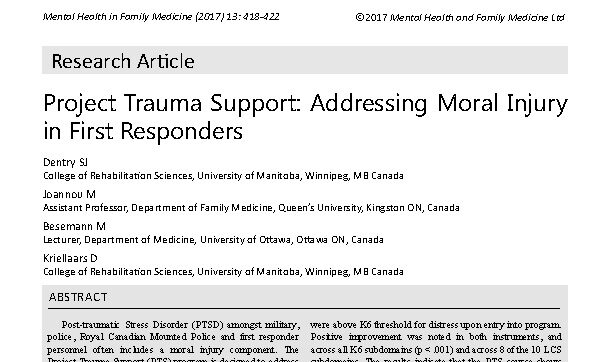 Abstract
Post-traumatic Stress Disorder (PTSD) amongst military, police, Royal Canadian Mounted Police and first responder personnel often includes a moral injury component. The Project Trauma Support (PTS) program is designed to address moral injury in the emergency service personnel population. The Kessler scale of psychological distress (K6) and a new Life Challenges survey (LCS) were administered pre-and post-course to three cohorts undergoing the PTS program, providing a within-subject design examining 8 males and 8 female emergency services personnel, in 2016. All participants were above K6 threshold for distress upon entry into program. Positive improvement was noted in both instruments, and
across all K6 subdomains (p < .001) and across 8 of the 10 LCS subdomains. The results indicate that the PTS course shows promise to provide a holistic therapy for military veterans,
police, Royal Canadian Mounted Police and other emergency personnel suffering from PTSD.
Introduction
There has been an increase in prevalence of Post-Traumatic Stress Disorder (PTSD) in military personnel returning from Afghanistan [1-3]. Studies have shown that PTSD is a major risk factor for suicide in the military veteran population [1,4]. Police and paramedics encounter similar traumatic events as the military population, and studies have shown the emergency services have an elevated risk of suicide [5-7].
Moral injury has been implicated in PTSD outcome [8], and includes anger, shame, inappropriate guilt and social alienation that manifests after witnessing or engaging in traumatic events that defy a person's sense of humanity [9]. Project Trauma Support (PTS) is a new initiative started in Canada that seeks to address moral injury associated with PTSD in Military/Veterans and First Responders (police officers, firefighters, paramedics). Moral injury is difficult to treat and also a more likely component to drive those suffering from PTSD to suicide [10-12].
Prolonged exposure therapy and cognitive processing therapy have been studied as the favoured treatments for PTSD in military veterans by Veteran Affairs in USA. These modalities have shown only modest benefits, perhaps because they do not address the physiological, psychological and sociological disintegration arising from PTSD [13]. Recently some complementary holistic approaches such as yoga, equine therapy, music, and art therapy have shown promise in the treatment of PTSD [14-16]. It has been our belief and experience that combining traditional therapeutic modalities with some of the more experiential therapies in an intense, brief residential treatment program can have significant positive outcomes. Furthermore, shared experiences and group psychotherapy stemming from shared experiences may be invaluable when it comes to reprocessing the memories (cognitive and physical) and lasting impact of trauma, thus helping to alleviate or minimize the symptoms of PTSD [13-16].
The Project Trauma Support (PTS) program is designed to address moral injury in the emergency service personnel population. The focus of the PTS program is to provide a safe environment where defences may be dropped and authentic emotions may be processed in the presence of supportive comrades who provide unconditional positive regard through
shared experiences.
This paper reports on the results of a pilot investigation of the PTS program on three cohorts of participants in 2016. Results from this project will help inform healthcare providers
of potential complementary therapies to aid in the rehabilitation process.